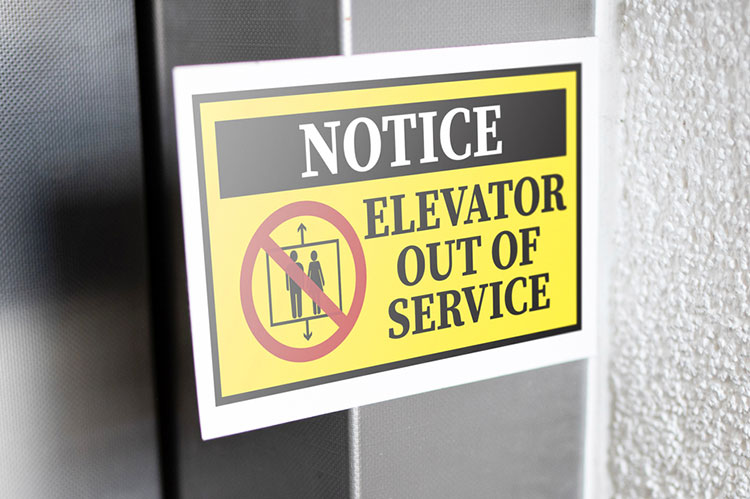 How We Fix a Broken Elevator
Your commercial elevator should be maintained regularly by professional elevator technicians to help avoid breakdowns and increase your elevator's longevity and safety. Of course, even with upholding a regular maintenance schedule, broken elevators can still occur.
Champion Elevator's experienced technicians can repair your elevator in the event of a breakdown or other operational issues. Here are some ways our experts may remedy a broken elevator in your building.
Slow Wait Times
If your passengers are experiencing slow wait times, your elevator's relays may be to blame. Wait times increase as relays wear down from use over an extended period of time. A technician will inspect your elevator's relays and determine whether or not they are due for a replacement.
Summer Breakdowns
If your elevator is more prone to breakdowns in the summer or during sudden heat waves, your elevator drive and control system may be overheating and causing the problem. A technician may suggest a dedicated cooling system for your elevator's equipment or check to see that any existing cooling systems are functioning correctly.
Sudden Stops and Abrupt Landings
Sudden stops before an elevator reaches its destination or unusually abrupt landings may be due to timing issues, faulty electronic components, or electrical failures. These problems can also result in less smooth travel, making rides uncomfortable and potentially unsafe for passengers. A technician will make sure all electronics are functioning correctly, and that electrical failures are not occurring.
Doors Not Opening or Breakdowns
If your elevators' doors are not opening properly (or at all), or if your elevator system fails to operate altogether, it may be due to sensor or power failures. When you are experiencing issues with your elevator doors opening or if you have an entirely broken elevator, a technician will check to see that sensors and power sources are optimally functioning to correct these issues.
Uncontrolled Speeds
Elevators moving at uncontrolled speeds, specifically when descending, may be due to corroded or leaky welds causing a loss of oil or pressure in the elevator jack cylinder. If you are experiencing uncontrolled speeds in your elevator, a technician will inspect your elevator jack and determine whether a repair can be made or if a replacement of the elevator jack is needed.
Other Movement, Speed, and Torque Issues
In the event that your elevator is experiencing other movement, speed, or torque issues, your elevator's drive is likely to blame. The drive controls the elevator, so any problems in this area will likely lead to a broken elevator. As a result, a technician will check your elevator's drive and determine if it can be repaired. A technician may suggest replacement or upgrades if you begin experiencing breakdowns again after having your elevator's drive repaired.
Schedule a Repair with Champion Elevator Today
If your elevator is experiencing any operational problems or difficulties, don't delay—hire an experienced technician right away. Champion Elevator is an independently owned, full-service elevator maintenance, repair, modernization, violation removal, and testing company. Headquartered in New York City and expanding within and beyond the Tri-State area, we can help you remedy broken elevators with ease. Contact Champion Elevator today!