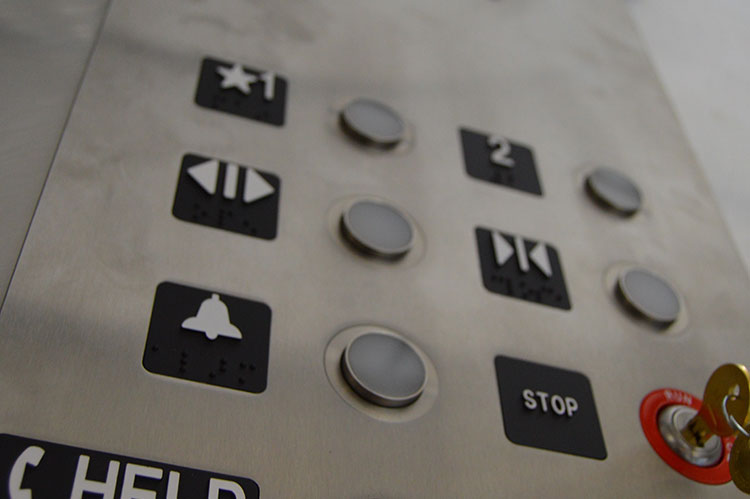 Our May 2020 blog clarified the specific differences between freight vs. service elevators. Today's blog serves to explain the difference between residential passenger elevators and commercial passenger elevators.
While both a residential passenger elevator and a commercial elevator move people between floors in a building, the 'devil is in the details' — meaning that if you do not understand the details, you will encounter difficulties and problems.
3 Signs That You May Need a Commercial Elevator
All passenger elevators are classified by cab weight capacity, the cab size, and the elevator speed. The cab weight classification for commercial lifts is between 2,100 and 5,000 pounds. The cab width must be 51 inches depth and 68 inches wide to hold the most persons. The Americans With Disabilities (ADA) Act requires that elevators in commercial businesses or multi-floor residential complexes be placed in easily accessed locations. One distinct difference between passenger elevators in high-trafficked buildings is in the elevator stops. There is no mandate placed on commercial elevators to stop at every floor. Such bins are classified as express elevators that go only to select floor levels or only take riders from the lobby to the top floor or' penthouse.' Modern multi-floor lifts for commercial use are usually high-speed traction elevators moving passengers to desired floor level in mere 'seconds.'
As in smaller residential elevators, elevators used daily in high-trafficked buildings need to include floor destinations in Braille on call buttons, inside and outside the cab. There should also be visible and verbal signals indicating floor level.
Furthermore, the elevator door must remain open three seconds to allow a safe entrance and exit from the elevator.
With the details of commercial elevators better understood, there comes the question of which buildings need such a transport device. The three signs pointing to such need include:
Multi-story business office or residence: Any multi-story building that serves as a 'non-stop' host to a variety of people daily, including those with limited mobility, and using wheelchairs — commercial lifts would be beneficial.
Corporate business building: If a large, corporate business has departments on various floors, and personnel visit the varied departments daily — commercial lifts would be beneficial.
A public building: Any low or mid-rise public buildings such as schools, medical offices, hospitals, libraries, assisted living facilities and nursing homes — commercial lifts would be beneficial.
How Champion Elevator Can Help
The experienced technicians of Champion Elevator install, repair, and maintain a variety of elevators. Contact our team of experienced professionals for a free consultation to determine the elevator best for your building.