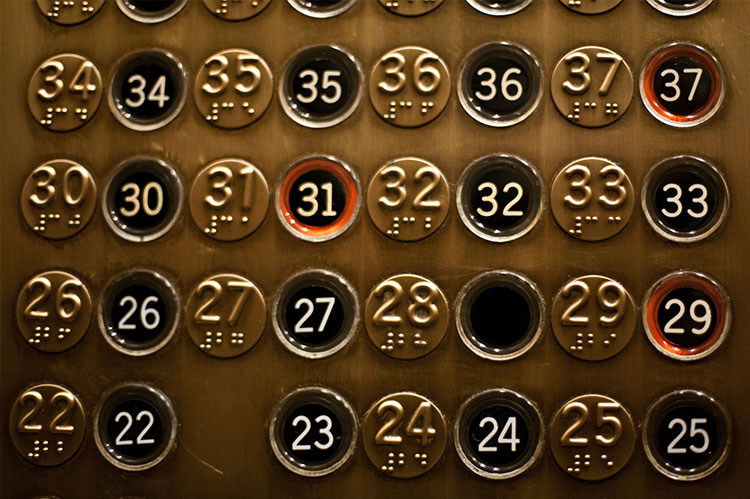 Elevator History: How Elevators Have Changed
Elevators are a daily convenience and necessity for many people, but that hasn't always been the case. Understanding elevator history can be beneficial for elevator operators and passengers alike. Here is a brief history of the systems we rely on to bring us up to our elevated destinations.
Early Passenger Elevators
Humans have been using hoists for vertical transportation since as early as the 3rd century BCE. Modern elevators, similar to those we're familiar with today, were first invented in the 1800s. Elevator design began to transition to carrying people instead of just goods in the 1850s, and in 1852 the first elevator safety devices were invented. The invention of safety devices illuminated the way for the evolution of passenger elevators.
The first elevator intended for passengers was installed in 1857. This elevator was steam-powered and traveled at an unhurried 40-feet-per-minute. Early passenger elevators traveled very slowly and were considered more of a spectacle and luxury experience than a means of transportation. At this time, tall buildings weren't yet constructed, and higher floors in buildings had lower rent because of the need to climb stairs to access these units—a stark contrast to today's high-priced penthouse units. These first elevators were luxuriously designed rooms with upholstered seating, mirrored walls, and even the occasional chandelier.
Becoming a Transportation Staple
Once buildings began towering higher and higher, increased elevator speeds became the catalyst for elevator innovation. In 1870, the first office building with elevators was constructed in Downtown Manhattan, marking the beginning of widespread, practical elevator history. The 1870s is when elevators became a transportation staple rather than a novelty experience reserved for an elite few.
Elevators began as steam-powered systems. However, they slowly evolved to hydraulic power once they started being installed in office buildings, where speed became the priority. Around this time, the industry standard of wait times of 30 seconds or less began, which remains the standard today.
The safety and speed of elevators began to advance even further when electricity became elevators' primary power source. By the 1880s, elevator shafts became integral to architectural design as buildings continued to tower taller and taller. The desire for elevators to go higher as skyscrapers continued to flourish caused the widespread shift to electric-powered elevators. As a result, the first electric elevator was invented in 1880, and in 1887 automatic doors that closed the car off from the shaft were developed, making elevators safer for transporting passengers. In 1889 the first successful electric elevator was installed in a commercial building.
Modern Electric Traction Elevators
The modern electric traction elevator was invented in the early 1900s, and it remains the industry standard to this day. As elevator history evolved and expanded to include more advanced safety and efficiency features, vertical transportation was made safer and more convenient than ever before. In fact, today's elevators are safer than both escalators and stairs, making elevator transportation the safest way to travel to your destination.
Discover Legendary Service with Champion Elevator
At Champion Elevator, we're making history with our industry-leading elevator services. For expert assistance in installing or modernizing your elevator for optimal safety and convenience, contact Champion Elevator today!